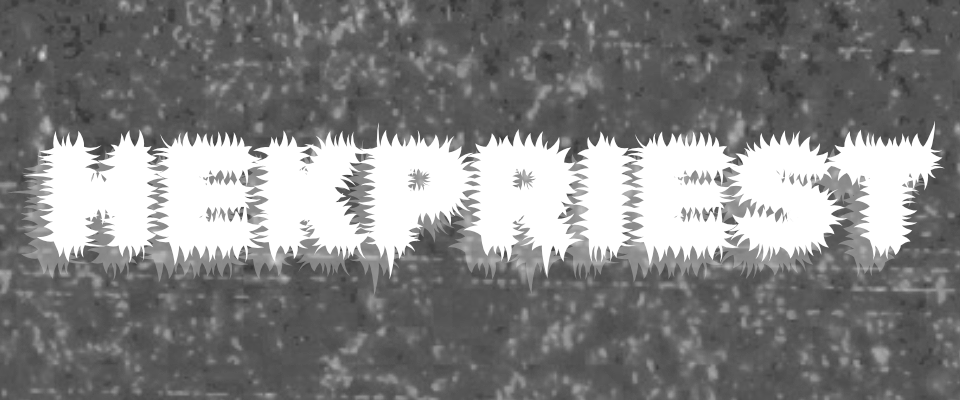 Hekpriest
In the Dusk of the Sixth Penumbral Eon, one man stood alone against the infernal hordes of the Dark Lord. Their rage, infinite. Their will, indomitable. They walk the path of eternal war, never stopping in their battle against the demons and the Six Archfiends that rule over that blasted dominion. One by one, each member of the Damned Court fell by their hand. Now, the thrones of our realm lay bare, whispering to those who desire power over the ever-expanding, ever-blasphemous planes of...

Hek.
Hekpriest is a hack of Lasers and Feelings under the Creative Commons License. 2-6 players are dark priests of the demon realms of Hek, with a GM playing the part of all the infernal NPCs they'll come across. The players are trying to ascend the Black Thrones after the Six Archfiends were brutally slain by the savior of humanity, the MURDER STAR MARINE. As priests, you will command legions of demons, invade the mortal planes and besiege humanity's fortresses and other forms of shenanigans.
Beware though, causing too much demonic havoc may have the MURDER STAR MARINE turn their eyes, and guns, upon you and send you to your DOOM. Also if you stray too far back to your old human ways, the Dark Lord of Hek themself might disapprove of your actions and cast GLOOM upon you!

Go forth and raise Hek, priests...

Hekpriest is under a Creative Commons Attribution 4.0 License. You are free to remix, and use any words in this game much like Lasers and Feelings. All I ask is you do the same for whatever you make the game and humbly ask for you to credit me!
Download
Click download now to get access to the following files:
Hekpriest_v1 (Accessible Text Only).txt
9 kB